About Us
Lee Ann B. Marino...is a full-time minister, author, professor, editor, and publisher. Her most recent book, Understanding Demonology, Spiritual Warfare, Healing, and Deliverance: A Guide For The Christian Minister, was published in January 2018. She has been involved with Christian ministry for over nineteen years and serves as a licensed and ordained minister of the Gospel, serving in her own ministry, Apostolic Fellowship International Revival Ministries. Within the Kingdom of God, Lee Ann serves in the five-fold ministry office of apostle. She currently oversees twenty ministries worldwide and also serves as Chancellor for Apostolic University.
Nicknamed "the Coco Chanel of holy garments," Lee Ann has been involved in crafting and sewing for over thirty years. She has been involved in design layout and printing for almost twenty-five years. Much of her crafting training comes from her mom, Nina, and from observing others and their crafting skills.
Her work as the CEO and one of the designers for Rose of Sharon Creations gives her a unique opportunity to use different skills and gifts to bless God's people with her designs.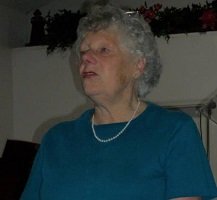 Nina B. Marino...is a Registered Nurse and Legal Nurse Consultant. She has been involved in the nursing profession for over forty years and in legal nurse consulting for over twenty years. Her first children's book, Gideon - A Yellow Lab: A Love Story was published in December 2017. Nina also works and operates in Christian ministry. Within the Kingdom of God, Nina serves as a prophetess and intercessor. She is a member of Sanctuary International Fellowship Tabernacle - SIFT in Raleigh, North Carolina, and she also assists the southeast division for Apostolic Fellowship International Ministries.
Nina has been involved in crafting, sewing, crocheting, knitting, alterations, and other crafting work for sixty years. She is self-taught in many of her crafting skills, observing from those around her. Rose of Sharon Creations gives her the opportunity to share her skills and talents with others, especially those who are Kingdom-minded and focused.